Home
Details

Written by

Edmonton Journal

Category: Statute-Legislation
Hits: 3979
Litigants reject court authority
Friday, September 28, 2012
Alberta's courts should take steps to combat growing abuse of the legal system by "vexatious litigants" who reject state and court authority, a top Court of Queen's Bench justice says.
In a decision issued in response to a June 8, 2012, divorce case involving a self-declared "freeman on the land," Court of Queen's Bench Associate Chief Justice John Rooke analyzes what he calls "organized pseudolegal commercial argument," or OPCA, litigants. His 185-page analysis of their arguments and legal implausibility was posted on the Alberta Justice court website on T hursday .
OPCA litigants typically follow "gurus" who promote and sell techniques to unlock secret accounts and evade traffic tickets, support payments or taxes by undermining governments, corporations and individuals, Rooke says. Although many rely on spurious name variants and titles, the individuals often identify themselves as Detaxers, Freemen, Sovereign Citizens, Moorish Law, or part of the Edmonton-based Church of the Ecumenical Redemption International.
Since their emergence in Canada in the 1990s, no court has ever accepted an OPCA concept or approach, Rooke notes. Nevertheless, OPCA arguments have been tried at all levels of court proceedings, by poor and wealthy individuals of various ages, religions and education levels.
Even celebrities have tried and failed, Rooke notes, most famously actor Wesley Snipes, currently imprisoned in the United States for tax evasion.
Rooke's decision centres around Dennis Larry Meads, whom the judge called an "ideal type specimen," currently in divorce proceedings initiated in early 2011. Since then, Meads has filed numerous "unusual documents," several with red thumbprints and signed by ": : : dennis-larry: : of the meads-family: : : ." In one such document, Meads declared himself as "postmaster general" and attempts to assign liability to a Court of Queen's Bench clerk.
Details

Written by

Debra Siddons

Category: Statute-Legislation
Hits: 4196
If everyone began using this defence tomorrow, in all of the Commonwealth courts and in the United States, the entire legal system could be brought to its knees in a matter of weeks if not days."
For those of you who have been following the John Anthony Hill (JAH) Case, it is great to be able to share that he was acquitted, on the 12th of May 2011, of the ridiculous and politically-motivated charge of attempting to "pervert the course of justice". For those of you less familiar with this landmark case, John Anthony Hill is the Producer of the documentary film "7/7 Ripple Effect". For more details about this extraordinary case and the trial itself, please visit the following links:-
http://mtrial.org 
http://jamesfetzer.blogspot.com 
http://terroronthetube.co.uk/2011/05/12/muaddib-acquitted/
There are two very important precedents that were established with this case that need to be studied in detail. There was a preliminary argument presented to the court to challenge both the jurisdiction and the sovereignty of Elizabeth Battenberg/Mountbatten, which was based on two distinct points. The first point being she was knowingly, and with malice aforethought, coronated on a fake stone in 1953 and thus has never been lawfully crowned.
There are those who may wish to argue that this point is irrelevant, as Judge Jeffrey Vincent Pegden did at the trial, wrongly thinking the Coronation is just a ceremony because she has been pretending to be the monarch for over 58 years. In actual fact the Coronation is a binding oath and a contract, requiring the monarch's signature. Which brings us to the second point.
At that Coronation ceremony, Elizabeth signed a binding contract, before God and the British people, that she would do her utmost to maintain The Laws of God. This she solemnly swore to do, with her hand placed on the Sovereign's Bible, before kissing The Bible and signing the contract. Please note well that in The Law of God, found in the first five books of The Bible, man-made legislation is strictly prohibited.
The very first time that she gave "royal assent" to any piece of man-made legislation, she broke her solemn oath with God and with the British people and she ceased to be the monarch with immediate effect. To date, she has broken her oath thousands and thousands of times, which is a water-proof, iron-clad, undeniable FACT. She is therefore without question not the monarch, but instead is a criminal guilty of high treason among her other numerous crimes.
Details

Written by

Terry Wrist

Category: Statute-Legislation
Hits: 1936
The Night Before Christmas, Legally Speaking
I, Occular. W. Itness, of 174 Main Street, Whoville, do solemnly affirm and swear to the truth of this, my sworn statement:
1. Whereas, on or about the night prior to the 25th of December, there did occur at a certain improved piece of real property (hereinafter "the House") a general lack of stirring by all creatures therein, including, but not limited to, a mouse.
2. A variety of foot apparel, e.g. stocking, socks, etc., had been affixed by and around the chimney in said House in the hope and/or belief that St. Nick a/k/a/ St. Nicholas a/k/a/ Santa Claus (hereinafter "Claus" or "the subject") would arrive at sometime thereafter.
3. The minor residents, i.e. the children, of the aforementioned House were located in their individual beds and were engaged in nocturnal hallucinations, i.e. dreams, wherein vision of confectionery treats, including, but not limited to, candies, nuts and/or sugar plums, did dance, cavort and otherwise appear in said dreams.
4. Whereupon the party of the first part (sometimes hereinafter referred to as "I"), being a tenant-by-the-entirety in fee simple of the House with the party of the second part (hereinafter "Mamma"), and said Mamma had retired for a sustained period of sleep (at such time, the parties were clad in various forms of headgear, to wit: kerchief and cap).
5. Suddenly, and without prior notice or warning, there did occur upon the unimproved portion of real property adjacent and appurtent to said House, i.e. the lawn, a certain disruption of unknown nature, cause and/or circumstance.
6. The party of the first part did immediately rush to a window in the House to investigate the cause of such disturbance. At that time, the party of the first part did observe, with some degree of wonder and/or disbelief, a miniature sleigh (hereinafter "the Vehicle") being pulled and/or drawn very rapidly through the air by approximately eight (8) reindeer.
7. The driver of the Vehicle appeared to be and in fact was, the previously referenced Claus, as more specifically identified below.
Details

Written by

The Guardian

Category: Statute-Legislation
Hits: 1799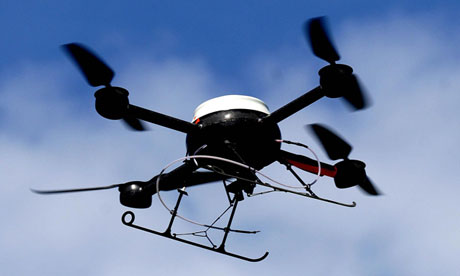 Defence firms, police forces and fire services are among more than 130 organisations that have permission to fly small drones in UK airspace, the Guardian can reveal.
The Civil Aviation Authority list of companies and groups that have sought approval for the use of the unmanned aerial vehicles, UAVs, has not been published before – and it reflects the way the technology is now being used. The BBC, the National Grid and several universities are now certified to use them – as is Video Golf Marketing, which provides fly-over videos of golf courses.
Including multiple or expired licences, the CAA has granted approval to fly small UAVs more than 160 times.
Details

Written by

Stop the War Coalition

Category: Statute-Legislation
Hits: 2660
The invasion has almost nothing to do with "Islamism", and almost everything to do with the acquisition of resources, notably minerals, and an accelerating rivalry with China.
By John Pilger
johnpilger.com
30 January 2013
A full-scale invasion of Africa is under way. The United States is deploying troops in 35 African countries, beginning with Libya, Sudan, Algeria and Niger. Reported by Associated Press on Christmas Day, this was missing from most Anglo-American media. 


The invasion has almost nothing to do with "Islamism", and almost everything to do with the acquisition of resources, notably minerals, and an accelerating rivalry with China. Unlike China, the US and its allies are prepared to use a degree of violence demonstrated in Iraq, Afghanistan, Pakistan, Yemen and Palestine. As in the cold war, a division of labour requires that western journalism and popular culture provide the cover of a holy war against a "menacing arc" of Islamic extremism, no different from the bogus "red menace" of a worldwide communist conspiracy.
Read more: John Pilger: "Islamic terrorism" is the invented excuse for theft of Africa's riches