Home
Details

Written by

The Guardian

Category: Statute-Legislation
Hits: 1063
Letters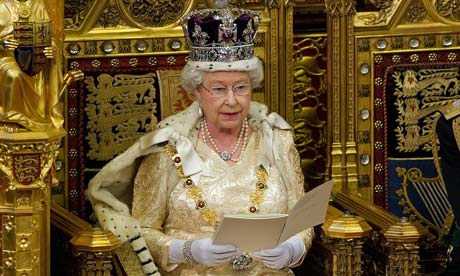 Even more extraordinary than the fact that a veto over new laws and proposed bills exists and is exercised by a ceremonial monarchy in what we erroneously believe to be a modern meritocratic democracy, is the fact that this item has not made the front page, has escaped editorial comment and has not made the national news (Secret papers show extent of senior royals' veto over bills, 15 January).
That the royal family has power to subvert the parliamentary democratic process in such areas as military authority and civil partnership is, to say the least, surprising. That they also have direct influence over "laws affecting hereditary revenues, personal property or personal interests of the crown, the Duchy of Lancaster or the Duchy of Cornwall" is surely relevant to the debate over tax evasion, tax avoidance, and now, bankers' bonuses deferred to reduce tax.
The royal family is the manifestation of the enduring privilege that lurks within the institutions of our nation, so perhaps we should not be surprised. But we should be surprised and disappointed that this has not made more waves in the media, especially the Guardian. It should matter to everyone, especially when the Cabinet Office has gone to such lengths to avoid revealing matters that are of such far-reaching public interest. 
Philip Murphy
Stalybridge, Cheshire
• That it should require real investigative persistence with freedom of information requests to uncover the role of the Queen and Prince Charles in approving legislation passed by parliament is extremely disturbing. To learn that, in what we thought was a constitutional monarchy, the Queen blocked a bill about the procedures by which the state decides to go to war, one of its most serious acts, is almost beyond belief.
Less serious, but still breathtaking, is the fact that the two royals appear, as landowners, to have been able to entirely dictate the rules covering their own, enormous, landholdings. The need for a written constitution, transparently implemented, has never been clearer.
Natalie Bennett
Leader, Green party
• If it hadn't already proved difficult, the contents of Tuesday's Guardian make it impossible to continue believing that we live in a democracy. The royal family, supported by the civil service, have supremacy over parliament, to their own benefit; Michael Gove is ignoring the wishes of parents, staff, governors, and his own election promises to hand a school over to a private company (Parents' anger at school takeover, p11); Andrew Lansley is breaking election promises and forcing clinical commissioning groups into privatisation contrary to the wishes of 80% of the electorate and local patients (Letters). And the sad thing is that we can do nothing about it. How they must laugh at us.
Jefrey G Pirie
Totnes, Devon
• Thanks to Tanya Gold for having the guts to expose the limitations and dangers of the privileged royalty (Our voodoo monarchy, 12 January). But simultaneously the Guardian gives extensive sycophantic coverage to the Duchess of Cambridge. And this is nothing compared with what will follow once the baby is born.
Details

Written by

The Guardian

Category: Statute-Legislation
Hits: 992
The extent of the Queen and Prince Charles's secretive power of veto over new laws has been exposed after Downing Street lost its battle to keep information about its application secret.
Whitehall papers prepared by Cabinet Office lawyers show that overall at least 39 bills have been subject to the most senior royals' little-known power to consent to or block new laws. They also reveal the power has been used to torpedo proposed legislation relating to decisions about the country going to war.
The internal Whitehall pamphlet was only released following a court order and shows ministers and civil servants are obliged to consult the Queen and Prince Charles in greater detail and over more areas of legislation than was previously understood.
The new laws that were required to receive the seal of approval from the Queen or Prince Charles cover issues from higher education and paternity pay to identity cards and child maintenance.
In one instance the Queen completely vetoed the Military Actions Against Iraq Bill in 1999, a private member's bill that sought to transfer the power to authorise military strikes against Iraq from the monarch to parliament.
She was even asked to consent to the Civil Partnership Act 2004 because it contained a declaration about the validity of a civil partnership that would bind her.
In the pamphlet, the Parliamentary Counsel warns civil servants that if consent is not forthcoming there is a risk "a major plank of the bill must be removed".
"This is opening the eyes of those who believe the Queen only has a ceremonial role," said Andrew George, Liberal Democrat MP for St Ives, which includes land owned by the Duchy of Cornwall, the Prince of Wales' hereditary estate.
"It shows the royals are playing an active role in the democratic process and we need greater transparency in parliament so we can be fully appraised of whether these powers of influence and veto are really appropriate. At any stage this issue could come up and surprise us and we could find parliament is less powerful than we thought it was."
Charles has been asked to consent to 20 pieces of legislation and this power of veto has been described by constitutional lawyers as a royal "nuclear deterrent" that may help explain why ministers appear to pay close attention to the views of senior royals.
The guidance also warns civil servants that obtaining consent can cause delays to legislation and reveals that even amendments may need to be run past the royals for further consent.
"There has been an implication that these prerogative powers are quaint and sweet but actually there is real influence and real power, albeit unaccountable," said John Kirkhope, the legal scholar who fought the freedom of information case to access the papers.
The release of the papers comes amid growing concern in parliament at a lack of transparency over the royals' role in lawmaking. George has set down a series of questions to ministers asking for a full list of bills that have been consented to by the Queen and Prince Charles and have been vetoed or amended.
The guidance states that the Queen's consent is likely to be needed for laws affecting hereditary revenues, personal property or personal interests of the Crown, the Duchy of Lancaster or the Duchy of Cornwall.
Consent is also needed if it affects the Duchy of Cornwall. These guidelines effectively mean the Queen and Charles both have power over laws affecting their sources of private income.
The Queen uses revenues from the Duchy of Lancaster's 19,000 hectares of land and 10 castles to pay for the upkeep of her private homes at Sandringham and Balmoral, while the prince earns £18m-a-year from the Duchy of Cornwall.
A Buckingham Palace spokeswoman said: "It is a long established convention that the Queen is asked by parliament to provide consent to those bills which parliament has decided would affect crown interests. The sovereign has not refused to consent to any bill affecting crown interests unless advised to do so by ministers."
A spokesman for Prince Charles said: "In modern times, the prince of Wales has never refused to consent to any bill affecting Duchy of Cornwall interests, unless advised to do so by ministers. Every instance of the prince's consent having been sought and given to legislation is a matter of public record."
Graham Smith, director of Republic, the campaign for an elected head of state, has also called for full disclosure of the details of the occasions when royal consent has been refused.
"The suggestion in these documents that the Queen withheld consent for a private member's bill on such an important issue as going to war beggars belief," he said. "We need to know whether laws have been changed as the result of a private threat to withhold that consent."
The Cabinet Office fought against the publication of the 30-page internal guidance in a 15-month freedom of information dispute. It refused a request to release the papers from Kirkhope, a notary public who wanted to use them in his graduate studies at Plymouth University.
It was ordered to do so by the Information Commissioner. The Cabinet Office then appealed that decision in the Information Tribunal but lost.
Royal influence
Here is a list of government bills that have required the consent of the Queen or the Prince of Wales. It is not exhaustive and in only one case does it show whether any changes were made. It is drawn from data gleaned from two Freedom of Information requests.
The Queen
Agriculture (miscellaneous provisions) bill 1962
Housing Act 1996
Rating (Valuation Act) 1999
Military actions against Iraq (parliamentary approval bill) 1999 – consent not signified
Pollution prevention and control bill (1999)
High hedges bills 2000/01 and 2002/03
European Union bill 2004
Civil Partnership Act 2004
Higher Education Act 2004
National Insurance Contributions and Statutory Payments Act 2004
Identity cards bill 2004-06
Work and families bill 2005-06
Commons bill 2006
Animal Welfare Act 2006
Charities Act 2006
Child maintenance and other payments bill (2006/07)
Rating (Empty Properties) Act 2007
Courts, Tribunals and Enforcement Act 2007
Corporate Manslaughter and Corporate Homicide Act 2007
Fixed term parliaments bill (2010-12 session)
Prince Charles
Conveyancing and Feudal Reform (Scotland) Act 1970
Land Registration (Scotland Act) 1979
Pilotage bill 1987
Merchant Shipping and Maritime Security Act 1997
House of Lords Act 1999
Gambling bill 2004-05
Road Safety bill 2004-05
Natural environment and rural communities bill 2005-06
London Olympics bill 2005-06
Commons bill 2006
Charities Act 2006
Housing and regeneration bill 2007-08
Energy bill 2007-08
Planning bill 2007-08
Co-operative and community benefit societies and credit unions bill 2008-09
Local Democracy, Economic Development and Construction (Lords) 2008-09
Marine and Coastal Access (Lords) 2008-09
Coroners and justice bill 2008-09
Marine navigation aids bill 2009-2010
Wreck Removal Convention Act 2010-12
Read more: Secret papers show extent of senior royals' veto over bills
Details

Written by

The Guardian

Category: Statute-Legislation
Hits: 1068
Nearly four years ago, I began writing a novel, set in the aftermath of the Norman conquest of 1066. Before I began to write, I spent six months sitting in the Bodleian library poring over books and journals to familiarise myself with the period. I soon realised that, apart from the story of the Battle of Hastings that everyone learns at school, I knew hardly anything about the impact of the conquest. I began to understand, too, how much of that impact is still with us.
By the end of the process, I had come to a slightly disquieting conclusion: we are still being governed by Normans.
Take house prices. According to the author Kevin Cahill, the main driver behind the absurd expense of owning land and property in Britain is that so much of the nation's land is locked up by a tiny elite. Just 0.3% of the population – 160,000 families – own two thirds of the country. Less than 1% of the population owns 70% of the land, running Britain a close second to Brazil for the title of the country with the most unequal land distribution on Earth.
Much of this can be traced back to 1066. The first act of William the Conqueror, in 1067, was to declare that every acre of land in England now belonged to the monarch. This was unprecedented: Anglo-Saxon England had been a mosaic of landowners. Now there was just one. William then proceeded to parcel much of that land out to those who had fought with him at Hastings. This was the beginning of feudalism; it was also the beginning of the landowning culture that has plagued England – and Britain – ever since.
The dukes and earls who still own so much of the nation's land, and who feature every year on the breathless rich lists, are the beneficiaries of this astonishing land grab. William's 22nd great-granddaughter, who today sits on the throne, is still the legal owner of the whole of England. Even your house, if you've been able to afford one, is technically hers. You're a tenant, and the price of your tenancy is your loyalty to the crown. When the current monarch dies, her son will inherit the crown (another Norman innovation, incidentally, since Anglo-Saxon kings were elected). As Duke of Cornwall, he is the inheritor of land that William gave to Brian of Brittany in 1068, for helping to defeat the English at Hastings.
The land grab was not the only injustice perpetrated by the Normans that has echoed down the centuries. William built a network of castles with English slave labour from which he controlled the rebellious populace by force. This method of colonisation and control was later exported to Ireland, Scotland and Wales, as the descendants of the Norman kings extended their empire from England to the Celtic nations. They taxed the poor harshly (the Domesday book is a tax collector's manual), deepening rural poverty to enrich royal coffers which were used to fight the continental wars that ravaged medieval Europe. Not without justification has one historian referred to Norman rule as a system of "medieval apartheid".
These days, I can't stop myself wondering what kind of country this might be now if William had lost at Hastings. Would we have been spared the aristocratic estates and the hereditary monarchs? Could the industrial revolution, even the empire, have happened in the same way without that intense concentration of land and power? Would the English be a less deferential people than they often still, frustratingly, are?
Read more: High house prices? Inequality? I blame the Normans
Details

Written by

National Post

Category: Statute-Legislation
Hits: 2590
After 30 years and six children, Dennis Larry Meads split up with his wife two years ago. When the divorce went to court in Edmonton in June, Mr. Meads tried something the judge would call "bluntly idiotic."
He argued that "man's law" did not apply to him. He claimed the judge only had jurisdiction at sea, not on land. He said the Bank of Canada kept a secret account in his name.
"I am a freeman on the land," he said.
The judge, John Rooke, had heard it all before. Across the country, courts and police had been dealing with Canadians like Mr. Meads who thought they could evade taxes, parking fines and spousal support payments by spouting lines from Freeman on the Land literature
It was wasting court time and earning money for a handful of people who made their livings selling books, CDs and tickets to seminars that promoted the notion that the law doesn't apply to you if you don't want it to. 
The judge, who happened to be the Associate Chief Justice of the Court of Queen's Bench, had heard enough. He decided to turn Mr. Meads' divorce into an opportunity to set things straight.
Read more: Judge's scathing ruling against Alberta 'freeman' could signal clampdown on anti-government movement
You are here:  

Statute-Legislation